NICU Baby Onesies and Clothes that are Safe for the NICU Setting
Looking for the best clothes for your NICU baby?
The key is to find NICU baby clothes that will fit around the wires and tubes.
And this post goes into specific details about which clothing is best.
Premmie baby clothes come in different styles, but there are specific ones that are practical for the NICU setting.
Every parent wants their baby to look cute and dressed up.
In my experience as a NICU nurse, I have seen many different items of clothing for preemies.
The NICU baby onesies and clothing that I will mention and describe are the best for your baby to look stylish and cute, but also be convenient and safe to remove in the NICU.
Also, I will review the criteria needed for NICU babies to wear clothes and the best places to buy preemie clothes.
So, let's get started!
Please note that this article contains affiliate links. That means if you buy something, I earn a small commission, at no extra cost to you! I only recommend products I love!  Read my disclosure for more details.
Can Babies Wear Clothes in NICU?
The short answer is yes, babies can wear clothes in the NICU, but it depends on many factors.
Before we put clothes on a baby, they need to be stable.
Any baby that is "not stable", needs IVs or x rays shouldn't be wearing outfits as the nurses need to monitor them very closely.
---
When do Preemies Start Wearing Clothes?
A micro preemie or preemie can wear clothes if the baby is "doing well" and growing well.
The nurse has to look at the big picture of the baby.
Below are the basic questions nurses ask themselves before deciding to put clothes on a baby: ⤵
Is the Baby able to Control their own Temperature?
Preemie babies can wear clothes in an isolette, but the temp has to be very low and the humidity turned off.
The temp in the isolette should be at the lowest and the baby's armpit temp should still be normal as the baby is keeping themselves warm.
If the baby is in a warmer bed ( we call this a Kbed) or in a cot, then the baby should be wearing clothes as this tells us that baby is able to control their own temperature.
Is it a New Baby who was just Born?
If a baby is new, their breathing needs to be monitored very closely. They will have many x rays and bloodwork done, so nurses need to have access to their little bodies.
Is the Baby Stable Overall?
If there were any big changes to the baby, such as a new breathing machine, then the baby has to be closely monitored, so no clothing should be on.
If a baby has any IVs, they shouldn't be wearing clothes as the IV site has to be closely monitored.
Intubated vs CPAP
An intubated baby ( preemie or full-term) will not be wearing clothing as they are not stable and need to be closely monitored.
A baby on CPAP can wear clothes if they are stable overall, which includes their breathing and tolerating their feeds.
In conclusion, the common theme is a preemie can wear clothes if they are STABLE overall and don't need to be monitored as closely because the baby is doing everything well.
Talk with your health care team to see if your baby is ready to start wearing clothes or not.
---
How many Outfits does a Preemie Need?
Preemies, like any baby, get themselves dirty often with poop and pee. 🙂
Therefore, they are being changed constantly.
Many parents bring their own preemie baby clothes, then they take them home to wash.
So bring in enough preemie baby clothes that will last until the next time you can come in and take them home to wash.
TIP:
Buy 2 bins from the dollar store that can be wipeable.
Label them "dirty " and "clean " and these can be the bins that you store all your own preemie outfits in at your baby's bedside.
This will keep your own clothes from getting lost or being mixed up with the hospital's preemie baby clothes.
---
How many Pounds do Preemie Clothes go to?
Preemie baby clothes are from 3-6lbs.
Micro preemie clothes are from 1-3lbs.
It is always advised to not buy micro preemie clothes because when your baby is that small, they are usually unstable and in a high temperature isolette.
So these babies don't need to wear clothes at this moment.
This is why NICU parents should only buy preemie sizes because this is the size that will fit the baby once they are ready to wear clothes.
Clothes are a great gift for any baby. Check out this post for best gift ideas for preemies.
---
What do Preemie Babies Wear?
The best clothes in the NICU are any clothing items with buttons or snaps.
This is because there are many tubes and lines that the baby is hooked up to.
So having clothing with buttons/snaps makes it easier to put on and take off the outfit around the lines.
Below I list the best clothing items to bring into the NICU for your baby:
Onesies with buttons or snaps:
2. Bodysuits with buttons or snaps:
3. Any 2 piece outfit with buttons/snaps
ScaryMommy also wrote an article on great baby clothes for your preemie.
These clothes that are described in the article are very close to the clothing items I mentioned above too, but with just a different perspective.
Read this before buying for your NICU baby ↴
Regular Bodysuits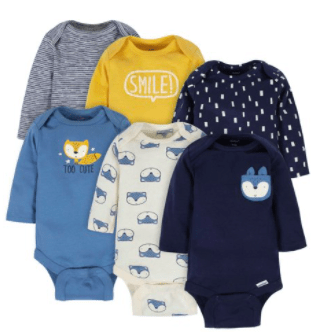 Regular bodysuits, with no buttons or snaps, are very cute on our little preemies!
But the only way to put them on is starting from the head.
This is why these outfits are not the best with CPAP babies as CPAP babies have a hat on and extra tubings from the CPAP.
Only buy these regular bodysuits (with no buttons or snaps) when your baby comes off CPAP ( on nasal prongs or room air).
Hats & Socks
Hats and socks are not needed in the NICU setting.
They are small articles of clothing, so they will get lost!
Save the hat and socks for the "going home" outfit, so you can take cute photos.
---
Where is the Best Place to Buy Preemie Clothes?
The best stores that I have seen carry good quality preemie outfits with lots of colours/prints are:
Carters
Walmart
Baby r us
---
Final Thoughts on NICU Baby Clothes
Every NICU parent looks forward to having their baby be able to wear clothes.
I'm not going lie… it is very exciting when you see your little preemie, who was born small and sick, all dressed up!
It definitely feels like one more step closer to going home.
It's also an amazing feeling as a parent to be able to go to the store and buy clothes that your NICU baby can actually wear.
So if you are wondering if your baby is ready to wear clothes or not, speak with your health care team.
Hopefully this blog post has helped you understand when NICU babies can wear clothes and the best NICU baby clothes to buy.
So enjoy shopping! 🙂
How old was your baby when they wore their first outfit?
Comment Below
If anything on my blog has helped you, please make sure to share the post, comment below the post and subscribe to my email list for more goodies.
I would love to hear from you!
If you have any questions, feel free to contact me or send a message to @nicunursefaith on Instagram.
Must-Have NICU Baby Clothes for the Hospital